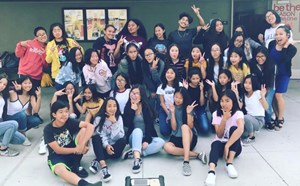 In addition to a rigorous academic program, students at Jordan Intermediate School benefit from a variety of intramural opportunities and after-school programs. Two popular programs are the Jordan Volleyball and Fitness Club and Jordan Dance Club (JD…
Principal's Message
Jordan Intermediate School is committed to creating a safe and engaging learning environment for your child.  We strive to ensure that ALL students thrive and achieve both academically and socio-emotionally.  To do this Jordan provides students with support in the following ways:
Academic Support
ROAR Tutoring: After school college tutors facilitate learning and studying on Mondays, Tuesdays and Thursdays after school from 2:30-4:00 p.m. in the Library and Rooms 16 and 44.  The college tutors work closely with Jordan teachers so they are aware of classroom expectations, concepts and skills, and upcoming assessments and assignments.  Students who are attending ROAR Tutoring are finding great levels of success in the classroom.
Library-The library is open before school, at lunch, and after school for students who need to complete assignments, do research, read or who seek assistance.
Socio-Emotional Support
Counselor Camille Giordano is available to conference with students about academic and social issues.  Students can make an appointment to see her and parents may requests conferences if they are observing concerning behaviors at home.
Behavioral Health Services provides counseling to students who require additional support.  Counselor Megan Smith is on site three days per week.
Extra-Curricular Opportunities
Students are encouraged to take advantage of the many clubs and groups on campus.  Please check out the Activities link for more information.
Jordan offers Art, Jordan Buddies, Caring for Creatures, Club Live, JEMS, Latinos Unidos, PAL, Photography, Vietnamese Student Association, Intramural Sports, Sports and Fitness and the Jordan Dance Crew.
Academic Pentathlon is a unique opportunity for students with varying GPAs to compete against other Orange County middle schools in the areas of math, science, literature, history and the arts.  This year's theme is India. Look for more information to come in the near future.
Parent Opportunities
Parents are encouraged to join Jordan's Parent Teacher Organization and Parents United to stay engaged in our school and help support the success of our scholars.
We love to hear from our families!  Please contact the principal, Tracy Conway, at tconway@ggusd.us.  We thank you for your ongoing support.
Our School
About Jordan Intermediate School
Jordan Intermediate has a strong record of academic excellence. Students outperform the district and state average on rigorous state testing.
Jordan has a powerful AVID college-readiness program that equips students with organizational and study skills to prepare them for success in high school and college.
Jordan offers a Science, Technology Engineering, Art, and Math (STEAM) pathway that prepares students for 21st Century careers in growing fields.
Jordan offers an Advanced Learner Program for high-achieving students.
Jordan's Roar Onto Academic Readiness (ROAR) tutoring provides students an opportunity to receive additional academic support from college tutors.
Jordan's visual and performing arts programs and numerous extra-curricular activities provide a meaningful intermediate school experience for students with vast hobbies and interests.
Jordan is proud to be a Positive Behavioral Interventions and Supports school. At Jordan Intermediate, we strive to treat each other with RESPECT and KINDNESS, and take RESPONSIBILITY for our learning
Choose Jordan Intermediate School
High-achieving students excel on rigorous state standardized tests
1:1 computer to student ratio with innovative technology use as part of daily instruction
Award-winning AVID program equips students with college-readiness skills
STEAM Pathway equips students with 21st Century skills for next-generation careers
Boys and Girls Club offers academic, artistic, and athletic after-school experiences
Multitude of extracurricular activities including dance, sports, leadership, and other club opportunities
Engaged parents support wonderful school community
Popular instrumental and vocal music programs
Advanced Learner and free after-school tutoring provide academic support to help ALL students succeed
Heritage Language offerings promote bilingual language development and celebrates cultural diversity